A diaper rash is characterized by inflamed skin and a rash in the diaper area, which includes the upper thighs, buttocks, and genital area.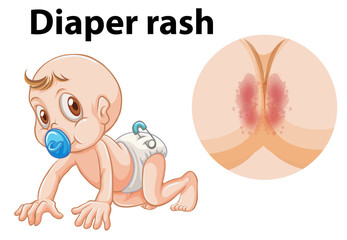 1. Petroleum Jelly
After removing a soiled diaper, clean your baby's bottom with warm water. Dry it well with a cotton towel, and then apply petroleum jelly. Do this every time your baby needs a diaper changed, and the diaper rash will heal quickly.
2. Coconut Oil
Coconut oil works as a great moisturizer. Gently apply some coconut oil on the diaper area several times a day.
3. Shea Butter
Wash your baby's bottom with mild soap and lukewarm water. Allow the area to dry naturally. Rub pure Shea butter gently in your hands until it melts. Then, press your hands on the affected area, rubbing the Shea butter on the irritated skin. Leave it on for a few minutes, and then put on a fresh diaper.
How long does it take for a diaper rash to heal completely?
It depends on how severe the rash is. The best approach is to get on top of the diaper rash as soon as you notice it. Most diaper rashes will resolve within 2 to 7 days.