An indication that there's something wrong with a baby's ear is when the baby is fussier than usual and cries while pulling their ear. More often than not, an ear infection is to be blamed for this unexplained change in your baby's mood.
Ear infections are some of the most commonly reported complaints at the pediatrician's office, and they are not to be taken lightly. At this tender age, babies rely heavily on sounds and hearing in order to learn to speak.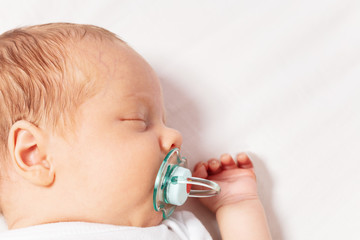 Here are the top few home remedies for ear infection in babies:
1. Apply Warm Compresses
Placing a warm, moist washcloth over the affected ear may lessen the pain that babies experience as a result of an ear infection
2. Try Cold Compresses
Soak a washcloth in cool water and wring out the excess water. Put the washcloth over the ear that's bothering your child. Do this for up to 20 minutes at a time.Repeat as needed.
3. Garlic Oil
Take two crushed garlic cloves. Soak them in 1 tablespoon of warm olive or sesame oil for 30 minutes. Strain the garlic out. Put a drop of the oil into each of the ear canals using a dropper.Repeat twice daily.