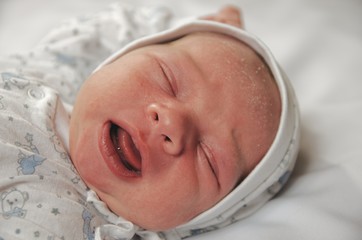 Cradle cap is a particular skin disease regarding babies, and they get irritation, crusty flakes, and greasy skin patches on their scalps. Especially new burns are victim of this skin problem, but it can be treated well-following home remedies for cradle cap as given below:
Shea Butter
Method:
You are required to rub some Shea butter onto the affected area and leave it for 20 minutes.
After a stipulated time, use a soft toothed comb to pick out flakes.
Wash baby's head with shampoo.
Gently wipe baby's head.
Vaseline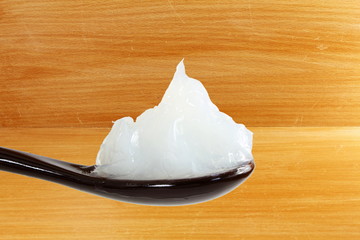 Method:
Simply apply some Vaseline to the infected area.
Leave it overnight.
This will make scales soft, which can be removed with the help of a soft toothed comb.
Coconut Oil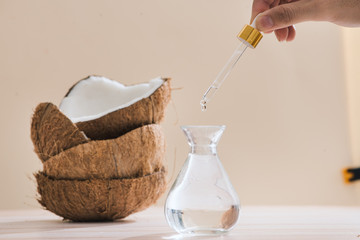 Method:
All you need to do is to apply some coconut oil on baby's head covering the infected area.
Use a fine and soft toothed comb to remove flakes.
After combing, use a mild shampoo to wash baby's hair, which will remove extra flakes.
Use a soft towel to wipe baby's head.
Mineral Oil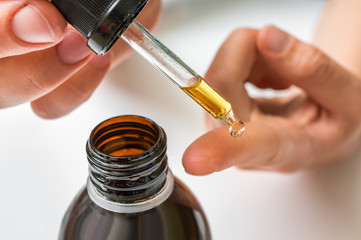 Method:
You are suggested to apply some mineral oil on baby's head.
Let it be on baby's scalp for a few hours.
Then, rinse baby's hair and scalp properly with a baby shampoo.
While washing hair, gently rub baby's scalp with the help of clean wet washcloth in a circular motion.
Olive Oil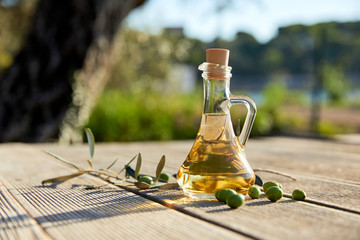 Method:
To remove crust-like scales and flakes from baby's scalp, apply some olive oil on his/her head.
Let it rest for 15 minutes.
Oil will soak the dry scales, which can be easily removed with a fine-toothed comb.
You can also use a clean soft washcloth to remove flakes.
Fine-Toothed Comb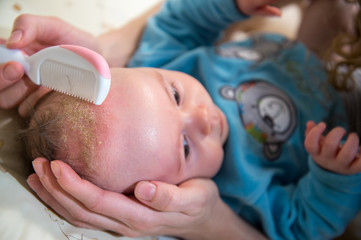 Method:
Oil the head.
Comb gently the head and remove the flakes.
Note: Do not put excessive pressure while using a comb to remove scales. If there are patches of scales that are difficult to get out, do not mess with them. Instead, work around them and let those patches loosen themselves out over time.
Baby Shampoo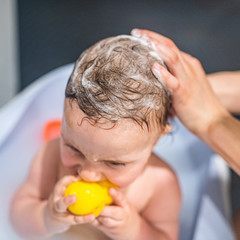 Method:
You just need to soak baby's head with warm water.
Apply some baby shampoo and gently rub the head.
Wash it with warm water.
Now, use a fine-toothed comb to remove scales from baby's head.
Tea Tree Oil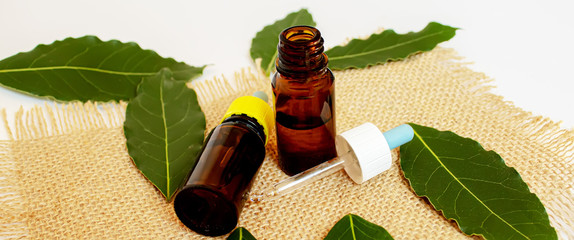 Method:
You have to mix tea tree oil and almond oil in a ratio of 1:10.
Stir it well and apply it on baby's head.
Leave it for 15 minutes.
Remove flakes gently with a fine-toothed comb.
You can also mix 4-5 drops of tea tree oil in one tbsp of olive oil. Utilize it in the infected area. After 5-10 minutes, rinse with a mild shampoo.
Note: Tea tree oil is very volatile oil. Avoid its contact with eyes, mouth, and nose.