Although ants are interesting insects and can be fascinating to watch in ant farms, they are pests that do not belong in your house. Since they are small, they can easily get inside of a house through cracks in the foundation or under doorways and find their way to your kitchen while exploring for food.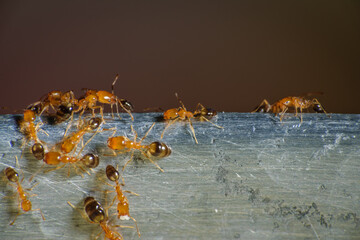 While they don't carry bacteria harmful to humans, they can be very destructive because they eat wood, which can affect the integrity of a house's structure. Once they have made their way into your home, ants can be difficult to get rid of, but you can learn how to kill ants with home remedies.
Cucumber
Place cucumber peels in areas where ants have been spotted. They will feed from the peels, so you will need to add new peels every day until the ants are gone.
Cayenne
Sprinkle cayenne in places where ants have been seen or you can mix cayenne powder with turmeric powder and sprinkle where they are getting into your house to repel them.
Chalk
Chalk is made from calcium carbonate, which helps to repel ants. It's simple to use because all you need to do is sprinkle powdered chalk where ants enter the house. You can also draw a line of chalk there as well.
Dish Soap
Mix one part dish soap with two parts water in a spray bottle. Spray the mixture where ants have been seen and, in a few hours, you will be able to dispose of their bodies by wiping them up with a damp paper towel.
Cornmeal
You can use cornmeal as an effective, and cheap, homemade ant trap. The cornmeal will attract ants to it because they will think it's food. However, they cannot digest the granules so that they will starve and die. Put the cornmeal where you've spotted ants and replenish as needed.
Artificial Sweetener
Aspartame-based artificial sweeteners can lure ants to their deaths as a homemade ant poison. You can learn how to kill ants naturally with sweeteners because they contain aspartic acid, which causes the brain to overstimulate itself and causes the ants to die. This homemade ant trap will work best with ants who eat sugary foods.
Vinegar
You can use this natural ant killer by mixing equal parts water and white vinegar, along with a few drops of any essential oil, in a spray bottle. Then spray baseboards, around windowsills, and other entry points. A damp paper towel will pick up their bodies so you can dispose of them. Spray every day until the ants are gone.
Borax Spray
Borax is safe for humans, but it's highly toxic for ants, but it does attract them. It's easy to find in hardware stores if you don't have it in your house. Mix borax with an equal amount of jelly and put it on a plate. Place the plate with the borax ant killer near where you've seen ants, so they will crawl into it, ingest it, and die.
or
You can also mix one part borax with three parts granulated sugar in water until it has the consistency of syrup. Put the mixture in areas where you have seen ants to kill them.
Peppermint
Mix 10 drops of peppermint oil with one cup of water in a spray bottle. Then spray it where you've seen ants and repeat as necessary until they are gone. Also, place crushed peppermint leaves around entryways and garbage cans to repel ants.