A hickey is essentially a bruise, caused by another person sucking on the skin, and pulling it into their mouth for about 30 seconds. This creates breakage of the blood vessels and causes either a red or brown, semi-circular in shape.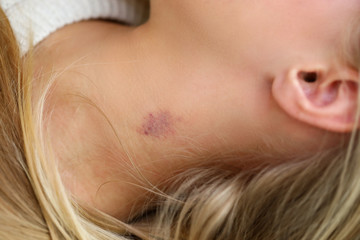 Following are few ways to get rid of hickeys that can make you embarrass in public area:
The Cold Method
Wrap ice in a thin cloth and place it on your hickey. Press hard on your hickey and gently rub it. Keep doing this for 20 mins. Your hickey mark will go away. If it does not, then repeat the method. You can also place a metal spoon in the freezer for 10 mins and rub the cold metal spoon on your hickey to fade it.
Hot Method
Place a high temp water container or warm towel on the region of the hickey for 10-20 minutes. To warm a towel, boil water in a container and put the towel in the boiled water. Make sure its not too hot, or you will burn your hands! Soak the towel and place the warm towel on your hickey. The hickey will fade away
Note: The 'hot method' to remove a hickey mark or fade it is best to use when your hickey is no older than 48 hours.