The Times of India
has a readership larger than the combined readership of the next three general English dailies from outside the Times group, the latest Indian Readership Survey (IRS) has revealed. What is more, TOI continues to grow, its main paper having added 32,000 readers over the last quarter.
The IRS for the third quarter of 2019 shows that TOI has an all-India average issue readership of 58.2 lakh, way larger than the 32.4 lakh readers that its closest competitor,
Hindustan Times
, has.
The Hindu
with 18.7 lakh readers and The Telegraph with 4.9 lakh are far behind.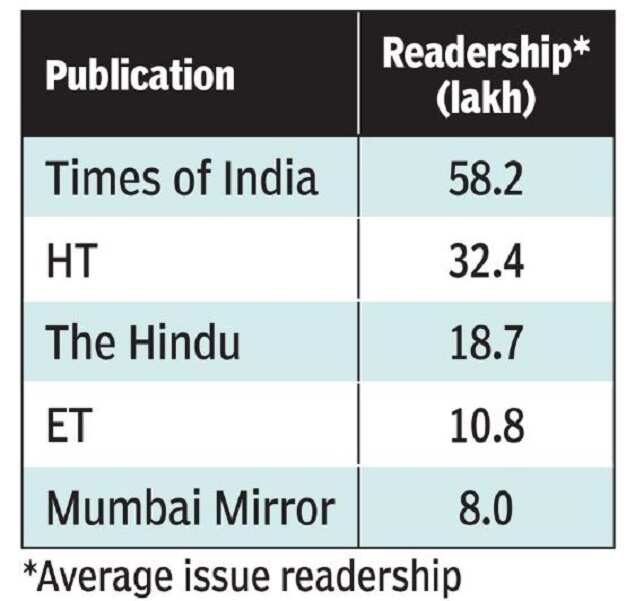 While TOI's main paper gained 32,000 readers over the quarter, its closest competitor, HT, lost 24,000. As a result, the gap in readership between the two has widened from 25.2 lakh to 25.8 lakh.
The Economic Times, a Times group publication, is in fourth spot among English dailies with 10.8 lakh readers while another group publication, Mumbai Mirror, takes fifth spot with 8 lakh readers. While ET has more than thrice as many readers as its closest rival among financial dailies, Mint, Mirror's readership is more than double that of Mid-Day, its closest competitor in the segment.
IRS data on total readership also presents a similar picture with TOI widening the gap over its nearest competitor, HT, from 83.9 lakh in Q2 2019 to 89.7 lakh in Q3.
TOI's pan-India dominance is also reflected in the many cities in which it is the market leader by some distance. In Mumbai, for instance, TOI's main paper had an average issue readership of 12.9 lakh, which is about 50% more than HT's 8.6 lakh. Similarly, in Bangalore, TOI is more than twice as large as Deccan Herald, its nearest rival, with 5.2 lakh readers compared with 2.5 lakh. In Chennai too, TOI's 2.8 lakh readership pipped The Hindu's 2.7 lakh. In Pune and Ahmedabad the IRS shows that there is really no competition to TOI.